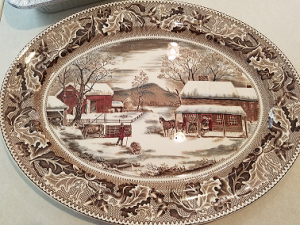 There is a story to this platter, but then again, there is a story to everything, right?
The story of this platter goes wayyyyy back to my earliest Thanksgiving memories at our house on Windsor Road.  Each year, my mom hosted Thanksgiving at our house.  My Nana was in charge of the turkey and would cook it at home, stuffing INSIDE the bird and bring it to our house to finish off in our "tornado" oven in the basement.  Early on, we had the extended family for Thanksgiving as well; Aunt Shirley and Debbie, Aunt Glenna, Nana, our family and eventually Todd's wife and kids and Neal's (then fiance) Robin.  Aunt Shirley always made a strawberry jello salad (still a favorite of mine), mom made candied sweet potatoes, mashed potatoes and just for me she would make creamed spinach.
The platter was for the turkey.  It was the only time of the year we would ever see this platter.  I don't even know where my mother stored it when it was not in use, but it was always there faithfully every year to serve the turkey on Thanksgiving.
We never ate Thanksgiving dinner in our dining room.   Our dining room was far too small for all those people.  In our basement we had a ping pong table, which makes for a great dining table when the net is down and a bed sheet is used for a tablecloth.   At some point, the ping pong table, having been sat on and broken, was replaced with a pool table.  We used that for a table for Thanksgiving as well, with another bed sheet making due for a tablecloth.  No matter where we had our Thanksgiving dinner, we always had The Turkey Platter to serve the bird.
After my mother died and my dad was selling the house, myself and my brothers' wives were brought to the house to pick out a few things we may want.  I wanted some special Christmas ornaments, but had forgotten about the platter…..until we started hosting Thanksgiving at our home after Michael and I were married.  For several years, I mourned the loss of The Turkey Platter as an opportunity lost and wondered which brother may now have it or was it gone altogether.
Then one day the phone rang.  it was my dad and he was packing up to move into a senior apartment, so lots of stuff had to go.  He asked me if I wanted this platter he found.  I immediately got excited and asked "is it The Turkey Platter?".   He didnt know exactly what I meant so I asked him to describe it to me, which in hind sight was silly given he could not see very well anymore.   He was having trouble describing it and I just kept saying "is it The Turkey Platter?".  He said, "well, yes, it has a turkey on it".   We agreed he would send it to me so he wrapped it up nice an cozy and shipped it to me.  I was giddy like a little girl when it arrived and as I unwrapped it found it was indeed "The Turkey Platter".
I was so proud to use the platter that Thanksgiving and have used it each Thanksgiving, Christmas and Easter since.  Each time I unwrap it for the event we are hosting, I remember back to Thanksgivings in the cold basement on Windsor Road, eating around the ping pong dining table covered with a bed sheet and smile at the memory just as I am now.
I hope the Turkey Platter will be able to be passed down to my girls and they will have some of the same good memories of Thanksgivings will family or Christmas dinner with the  LaCombe family.  We don't have a basement or a ping pong table, but I have been known to use a bed sheet as a table cloth…..and it worked great.
Happy Thanksgiving Everyone…………..gobble gobble….