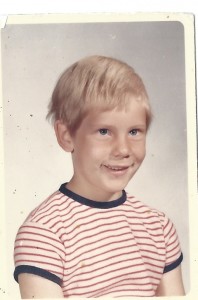 I got my hair cut today. Its funny how things come around over time. Our parents take care of us when we are kids and as they age, they become more like children and we end up having to take care of them.
I am the youngest child in my family AND the only girl. If you were to ask my mother, she would tell you they kept trying until they got a girl. My dad would always comment on a little girls hair if it was long and pretty. Me? I never had long and pretty hair. I had long hair for awhile, but I would never call it pretty.
When I was 5, my mother entrusted me to our neighbor, Lisa Rouse, to take me to her hairdresser for a haircut. At the time, I was a toe-head blonde (whatever that means – what does toe-head have to do with anything?) with super-fine hair a bit past shoulder length and it was slightly curly. I don't recall the name of the place where Lisa took me, but I do remember it was on Old Skokie Road in Highland Park, not far from the pedestrian overpass over HWY 41 and near the scrapyard along the railroad tracks.
The Pixie cut was all the rage in 1967, though I would say far more so for fashionable young women, not so much for kindergarten girls. Nonetheless, I came home with a pretty raggety Pixie hair cut as pictured from my 1st grade picture. My Father was devastated. My Brothers teased me relentlessly and I am fairly sure my mom and dad "had words" about it. Thankfully, my father was never one to hold a grudge. Over that weekend, he went down to the Rouses' house, they all had an Old Style and laughed at my haircut for the next month or so.
That was when I was 5. I don't think I cut my hair again until I was at least in my 20's. From 25 – 40 there were various perms, highlights, trims, bangs, cutting my own hair, letting Jamie cut my hair and lord knows what else, but the length remained relatively long.
I had my first child at 36. I cut my hair to my shoulders. I had my second child at 39 and my hair got a bit shorter. For years I thought about going all the way and really cutting it short. I would think, try to visualize, but never got up the nerve to do it until one day it happened.
I was determined. I found a picture in a magazine and headed up to Super Cuts, one of those walk-in and for $10.00 they will cut your hair any way you want. I had never been there and didn't know a soul, but showed the hairdresser the picture and asked her to cut my hair. Her name was Pam and she was pretty hesitant. Throughout the cut, she kept checking and I would say shorter!
When she was finished, I was thrilled! Here I was at 43 years old and I had finally found the haircut that made me happy. I will admit, my husband was not thrilled (what is it with men and hair), but he has grown used to it. And…….he likes to see me happy. J