I have these friends, Johanna and Laura.  Its funny, we all three worked at the same company for at least 16 years.  I would see each of them individually outside of work, but once I stopped working there (they both still do) I thought……….I need to get these two gals together.
I like them both for many of the same reasons.  They are both smart, extremely well read (I sometimes have to ask them to explain a word to me), love to laugh and they crack me up.  They love their pets, their families and when we hang out I never want the time to end.
A few months ago, I thought it would be fun to invite them to one of those "painting party" places.  You know, a bunch of (typically) women in a room with paints, canvas, an instructor to step you through what to do to get your painting just like the example and most importantly, wine.  So the giggling begins.  By the end of the night, my cheeks hurt from laughing,  Laura and Johanna had gotten to know one another, found they had a lot in common and once again, I didn't want the time to end.
Fast forward.  Johanna had found this website for a weekly Sunday ritual called YogaHike.  The instructor takes folks to various local and state parks, you start with an hour hike and then an hour of Yoga.  Its not easy to get 3 busy ladies to find a Sunday when they can get together to do this, but we finally did and landed on Byrd Park in downtown Richmond.
We got there and met the instructor.  In total there were about 12 people.  Another threesome of ladies, a few singles, one guy, us and the instructor.  We ventured off on our hike, down some steps and through a narrow path in the woods where I began immediately to worry about poison ivy as I am highly allergic.  Little did I know that Byrd Park is actually very near the James River.  We walked maybe a mile to "The Old Pump House" which is a beautiful old stone structure no longer in service, but with great bones.  As it turns out the instructor had been to an event there the week before – a charity event to raise money to get the building fixed up for….events!  We oohed and ahhhed for a bit and moved down the path, crossing railroad tracks to get to the James River.  There are two railroads that cross not far, the tracks we crossed which go east/west and then a lovely trelace bridge right over the river that carries north/south traffic.    Again, we ooohhh and ahhhhh, and move on.  Through the woods, down to the side of the river on a path.
By this time, the instructor, the 2 single ladies and the guy are all ahead of us.  Then Laura, me, Johanna and the group of 3 other ladies trail behind us slightly.  As we are walking and talking, I see a deer across the river.  I stop Johanna to take a picture as she had been snapping pictures throughout the hike so far.  We notice we have lost Laura so we speed up to catch her.  Behind us, the threesome of ladies are not in sight.
Laura has stopped a bit up the path to wait for us and we catch her.  We continue together a bit, but cant find or hear the instructor.  We decide to head back to see if we missed a turnoff somewhere and find the other threesome, but no instructor.  We all six quickly decide to go back to the tracks where we went into the woods to see if we find the instructor waiting for us there.  Nothing.  An executive decision is required.  We split up.  The threesome went back the way we came and we forged ahead assuming someone would notice we were missing and stop to wait.    Did anyone ever tell you what ASSUME means?
We went about as far as we thought made sense before we started getting nervous that we would be all the way down in Pony Pasture before we turned around and went up to the train tracks.   It was probably about 90 minutes into our 1 hour hike by this time and we were just giggling up a storm.  We decided we needed to start making up a story.  "So, there was this Bear" is how it would begin and it went on from there.
As we were walking down the tracks, we could not help but draw a parallel to the movie Stand By Me.  The next thing you know, there is not only a Bear in our story, but a kid named Ray Brower.  Maybe the Bear killed him by the tracks.  The kid stumbled across him while he was fishing for salmon in the James River.  Wait, there are no salmon in the James River.   We moved on.
Laura and I were in front, singing Lollipop Lollipop, oh Lolly Lollipop just like the boys in the movie – we even did the little skip down the tracks.  Johanna is behind us taking pictures and we start talking about the scene where the train came while the boys were on the bridge and they barely made it off before getting hit.  I even went so far as to bend down and feel the rails to see if they were vibrating……..then the more we talked about it the more nervous I got.  We were around a curve.  A fast moving train could indeed catch us by surprise.  I started planning our escape route.  Where would we jump if a train did come.  The closer we got to the walkover we needed to reach, the more nervous I became, looking over my shoulder, listening for a train.  At some point, there was a train whistle and I admit I got a bit more panicky… Johanna and Laura thought I was nuts.
Once we got to the walkover, a collective sigh of relief and we continued to follow the path we originally came to get back to the starting place.  Of course, we couldn't EXACTLY remember, so we were once again detoured, but not as drastically, though the woods.  I stopped someone and asked to ensure we were headed in right direction.  My partners in crime said "You cant ask for directions – ye of little faith!".
FINALLY, almost 2 hours into our adventure, we made it back to the starting point.  We found our instructor along with the rest of the yoga-hikers doing their yoga-thing.  It actually took them some time to acknowledge we were there.  We were invited to join the rest of the class (all 10 minutes), but we opted out.  You see, we had planned long before that after our yoga-hike, we would need some sustenance.  Such as a cocktail and some snacks.  Now we found we needed them more than ever.
Johanna had picked this place called "Starlite".  My first reaction:  Isn't there some seedy place in Vegas called the Starlite Lounge?  This was most certainly not the "Starlite Lounge" I was told.   We hopped in the cars, drove over, got a seat, ordered a YUMMY YUMMY cocktail and some snacks along with a LARGE glass of water each.    There was more giggling, expanding on the Bear story (no one ever even asked!) and plans for the next adventure.  As the waitress reached over to re-fill my water glass, I look down to find "The Starlite Lounge" emblazoned on the glass.  Somewhere in the back of my mind, this is exactly what the sign at the one in Vegas (or the one I dreamed of in Vegas) looks like.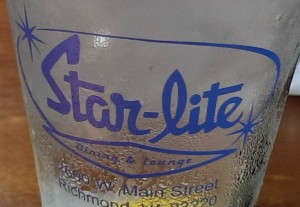 Finally, as we were leaving the lounge, I look across the street and what do I find in front of someone's house?  A HUGE BEAR!
Laura and Johanna, this one is for you…………..until our NEXT adventure.