There are people who can work on cars and those who cannot.  The trick is to know which one of these categories you fall into.
My father fell into the CANNOT category, but he thought he was a CAN kind of guy   Disclaimer:  my dad could repair most anything around the house including gas and electrical as well as appliances and more; and has walked me through many a repair over the phone to repair my washing machine, dryer, refrigerator, lay floors……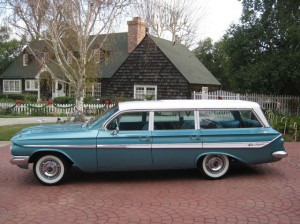 My memory of my father's inability to work on a care (or any combustion engine for that matter) goes back to an old baby blue Chevy station wagon we lovingly called Old Bessie.  Bessie was a 1961 Chevy station wagon (or thereabouts) with matching blue interior and a crank down rear window.  She had rear fender wings and chrome detailing down the side.  Those corner side windows that my dad would crack open in the winter to flick his cigarette ashes out of.  Over the years, my father had attempted to work on various parts of Bessie; the engine, brakes, the back window and more.  By the time we took Bessie off to the metal scrapyard in the sky, she barely ran and the back window hadn't been able to crank up or down for a few years.  Being half-down, the back window was covered with plastic and held there with black electrical tape – my dads favorite.
After Bessie's demise, there was the introduction of a 1972 Ford Country Squire station wagon.  It was dark green and had fake wood paneling down the sides and across the back.  The way-back had a hidden seat that could flip up and offer an additional row of seating – facing backward.  My brother Neal and his now wife of 39 years dated in that car and eventually my parents gifted it to my brother Todd when his family grew unexpectedly.  The wagon wasn't a mess when Todd received it, however in typical Chicago style it was a rust bucket by the time Todd took it to the wrecking yard.
Move on to 1977 and an International Harvester Travel All was the Geitner family mobility device.  The Travel All was International's answer to the Jeep Wagoneer or the SCOUT.  International Harvester (now Caterpillar) made cars you ask?  Why YES, yes they did; though no one else on the planet knew this, but my father.  The International Harvester headquarters were in Peoria, Illinois, where my father grew up.  As it turns out, we had several family members who worked in the factory there, so the stage was set.   I learned to drive in this car and can still hear Sue and Nancy cackling when they saw me driving it for the first time.  I will add, however, that my (our) friend Gini's dad also had a Travel All – so we were destined to be friends when we met in high school.   Over the years, my dad tried to "fix" things on the Travel All, yet sadly and not so surprisingly, it ended up with the same demise as old Bessie with a back window that didn't work and all of the pieces taken apart to try and repair it, left to rust in the back and the window no longer going up or down.  Bring in the plastic and trusty black electrical tape, which remained there until my Dad took the Travel All off to the junkyard in the sky.
In case you haven't noticed, my father did not have a good track record with fixing cars, but I had friends who I loving called Gear Heads and thanks to them I was able to surpass the "Dad" gene and learn how to repair my own vehicles.  It started with my first car, a 1974 Honda Civic named Ben.  When Ben began constantly getting bogged down, sputtering and such  I became friends with  the guys up at the NAPA auto parts store in town because I was up there so often to get a new fuel filter.  Gas was leaded then and clearly I was not getting it at the right place.   That started the trend of repairing my own vehicle and thanks to many of my Gear Head friends I learned how to change oil, tires and recognize the sound of open headers.
My husband Michael is a lover of cars.  He has completely torn down and rebuilt the engine in a tractor, a 1994 Isuzu Trooper and my trusty chipper-shredder.   Thanks to him, our cars will last as long as we want them to and look good doing it.   Years ago when my father's eyesight was beginning to fade, he had come to visit us out in "the country".   Michael was working on our F250, giving it an oil change or what have you.  My father wandered out there to "watch" and lend a helpful hand.  Mostly he asked a lot of questions and pointed in directions that did not make sense based on what he was asking about.  Yes, my dad did have failing eyesight at the time, but it was further proof he just wasn't good with cars.  Nowadays, Michael and I spend a good bit of time watching 'Fast n Loud', 'Wheeler Dealers' and the GOOD (now defunct) version of Top Gear BBC– the American version STINKS.   Before I met Michael i was listening to  Car Talk on NPR.  I would listen and play this game with myself to figure out what the problem was before Tom and Ray gave their diagnosis and see if I was right or at least in the same ballpark.
Of course, now cars are mostly electronic and fuel injected and I take them into the shop for repair now; which is what brings me back to the title of this little anecdote.  A few years ago my neighbor Steve bought a SWEET 1961 Chevy Impala; the 4 door version of Bessie.  We have named Steve's car Vlad, the Impala.  Its Chevy blue with a white hard top, white wall tires and a solid metal dash.  The wings on the rear fenders are just the perfect size and if you were in the mob, you could fit 6 bodies in the trunk – easy.  When Steve was working on the engine one morning, I happened to walk out my front door just as he was spraying some carburetor cleaner and caught a whiff.  I had an immediate flashback to high school and my old gear head buddies and shouted down to him……."I love the smell of carburetor cleaner in the morning, Mr. Steve!"
The best part was when he later told me he was impressed I was able to name that smell.